Where Do We Go Now?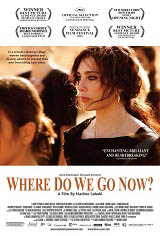 | | |
| --- | --- |
| Score: | 6.67 / 10 |
| Released: | May 25, 2012 |
| Director: | Nadine Labaki |
| Producer: | Romain Le Grand |
| Studio: | Mongrel Media |
| Cast: | Claude Baz Moussawbaa, Layla Hakim, Nadine Labaki, Antoinette Noufaily, Yvonne Maalouf |
| Genre: | Drama |
| Length: | 110 minutes |
write a review | read reviews | watch the Where Do We Go Now? trailer

Where Do We Go Now? Overview
As the specter of sectarian conflict looms over a village in the Lebanese countryside, women of both Christian and Muslim faiths—Amale (Labaki), Takla (Claude Baz Moussawbaa), Afaf (Layla Hakim), Yvonne (Yvonne Maalouf) and Saydeh (Antoinette Noufaily)—are determined to protect their families from further violence and grief.
To distract the men from succumbing to antagonism, they hatch schemes with zeal, beguiling the men with a cast of Ukrainian casino showgirls and serving hash cookies at a dance party. From one plot to the next, these women defy conventions and taboos—until a young man's accidental death from crossfire outside their village calls for a more radical and decisive tactic.
In Arabic and Russian.
Showtimes
(No Showtimes Listings)