Adrift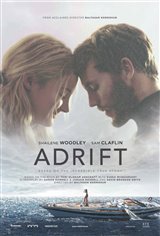 | | |
| --- | --- |
| Score: | 7.03 / 10 |
| Released: | |
| Director: | Baltasar Kormákur |
| Producer: | Aaron Kandell, Baltasar Kormákur, Jordan Kandell |
| Studio: | VVS Films |
| Cast: | Shailene Woodley, Sam Claflin, Elizabeth Hawthorne |
| Genre: | Action/Adventure |
| Length: | 95 minutes |
write a review | read reviews | watch the Adrift trailer

Adrift Overview
World-traveler Tami Oldham (Shailene Woodley) journeys to the island of Tahiti, where she meets and quickly falls in love with Richard (Sam Claflin), an avid sailor who introduces her to the world of sailing. Over the next five months, their romance blossoms and the two bond over their shared love of adventure and travel. 
Richard is approached by friends who request he sail their boat to California in exchange for $10,000 and plane tickets home. Richard agrees, and Tami joins him on the 4,000-mile voyage across the Pacific Ocean. During their travel, they learn of an approaching hurricane and attempt to avoid it, unintentionally sailing directly into the storm as it changes course. Richard tells Tami to go below deck where she is knocked unconscious. When she wakes, the storm is over, the boat is badly damaged, and Richard is nowhere in sight.
Eventually, she discovers Richard floating amongst debris in the ocean, but he is too injured to help her navigate the ship towards land. Alone in the middle of the Pacific with no radio contact and a quickly decreasing food supply, Tami must take control of the wrecked boat and brave the treacherous waters in a desperate attempt to save them both. 

Based on the memoir Red Sky in Mourning: A True Story of Love, Loss, and Survival at Sea by Tami Oldham Ashcraft with? Susea McGearhart.
Showtimes
(No Showtimes Listings)