Hail Satan?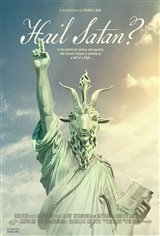 | | |
| --- | --- |
| Score: | write a review |
| Released: | May 3, 2019 |
| Director: | Penny Lane |
| Producer: | Gabriel Sedgwick |
| Studio: | Mongrel Media |
| Cast: | |
| Genre: | Documentary |
| Length: | 95 minutes |
write a review | read reviews | watch the Hail Satan? trailer

Hail Satan? Overview
Chronicling the extraordinary rise of The Satanic Temple, which contrary to what most believe, is not composed of devil worshippers. Although they call themselves "Satanists," you can find members doing charitable works such as picking litter off roads, sponsoring blood drives and collecting clothing for the needy. In fact, they follow seven tenets, such as striving "to act with compassion and empathy toward all creatures" and promoting beliefs that conform to a "scientific understanding of the world."
Hail Satan? is not only charming and funny but thought-provoking, as it offers a timely look at a group of often misunderstood outsiders whose unwavering commitment to social and political justice has empowered thousands of people around the world.
Showtimes
(No Showtimes Listings)