Fantastic Beasts: The Crimes of Grindelwald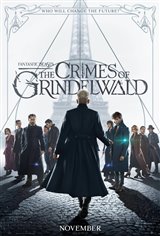 | | |
| --- | --- |
| Score: | 6 / 10 |
| Released: | November 16, 2018 |
| Director: | David Yates |
| Producer: | David Heyman, J.K. Rowling, Lionel Wigram, Steve Kloves |
| Studio: | Warner Bros. PIctures |
| Cast: | Eddie Redmayne, Katherine Waterston, Dan Fogler, Alison Sudol, Jude Law, Johnny Depp, Ezra Miller, Zoë Kravitz, Callum Turner, Claudia Kim, William Nadylam, Brontis Jodorowsky |
| Genre: | Sci-Fi/Fantasy |
| Length: | 134 minutes |
write a review | read reviews | watch the Fantastic Beasts: The Crimes of Grindelwald trailer

Fantastic Beasts: The Crimes of Grindelwald Overview
While dark wizard Gellert Grindelwald (Johnny Depp) is being transferred from prison in the United States to one in England, in order to stand trial for his crimes, he escapes and heads to Paris, where he begins to put a plan in motion to raise pure blood wizards who will rule over all non-magical beings.
Meanwhile, Credence Barebone (Ezra Miller), accompanied by snake shapeshifter Nagini (Claudia Kim), is determined to find out his true identity by solving the mystery of his parentage.
When Albus Dumbledore (Jude Law) asks Newt Scamander's (Eddie Redmayne) help in putting a stop to Grindelwald's evil plan, Newt asks Tina Goldstein (Katherine Waterston) to help him in this quest. However, Tina doesn't want anything to do with Newt because she thinks he's engaged to his former classmate, Leta Lestrange (Zoë Kravitz).
Showtimes
Click on a number to locate your theatre on the
map
below
Showtimes in theatres in a 60kms radius of Greater Ottawa, Ontario
Click on a number to locate your theatre on the
map
below