The Death (and Life) of Carl Naardlinger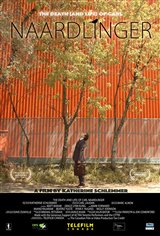 | | |
| --- | --- |
| Score: | write a review |
| Released: | July 13, 2018 |
| Director: | Katherine Schlemmer |
| Producer: | Carl Laudan, Mikhail Petgrave |
| Studio: | levelFilm |
| Cast: | Matt Baram, Grace Lynn Kung, Mark Forward, Molly Atkinson |
| Genre: | Comedy |
| Length: | 92 minutes |
write a review | read reviews | watch the The Death (and Life) of Carl Naardlinger trailer

The Death (and Life) of Carl Naardlinger Overview
Carl Naardlinger (Matt Baram) is a mild-mannered IT specialist who tends to obsess about things that don't really have much to do with him. On his birthday, just as he's about to blow out his candles, he wishes that the entire Pacific Ocean wasn't radioactive. His obsessions just about drive his long-suffering wife, Pam (Grace Lynn Kung), crazy.

On his birthday, a police officer comes to the door and tells Pam that he's looking into the disappearance of Carl Naardlinger. When Carl comes to the door, the officer realizes he's been sent to the wrong address. It turns out that another Carl Naardlinger is missing and presumed dead. Carl instinctively feels a responsibility to the man. He finds people who knew Carl and asks about him. He also gets a photo to put on a missing poster, along with his own phone number.

Carl soon receives a call from a man named Don (Mark Forward), who saw one of the missing posters in a Toronto ravine. He calls Carl, because strangely, he looks exactly like the missing man.

Showtimes
(No Showtimes Listings)