Racetime 3D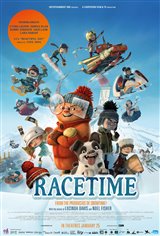 | | |
| --- | --- |
| Score: | write a review |
| Released: | December 7, 2018 |
| Director: | |
| Producer: | Marie-Claude Beauchamp |
| Studio: | Entertainment One |
| Cast: | Lucinda Davis, Noel Fisher, Angela Galuppo, Dawn Ford, Todd Fennell, Don Shepherd, Sonja Ball, Heidi Lynne Weeks, Jenna Wheeler-Hughes, Elizabeth Macrae, Holly Gauthier-Frankel, Satin Scarlett Montaz |
| Genre: | Animation |
| Length: | 89 minutes |
write a review | read reviews | watch the Racetime 3D trailer

Racetime 3D Overview
Frankie and his team, with Sophie as a runner, face off against a newcomer, the dark and pretentious Zac, and his athletic cousin Charlie in a spectacular toboggan race. However, the super sled Francis designed disintegrates right in the middle of the race. The defeat is bitter and Francis refuses to admit that he made any mistakes.

With the help of his friends, he manages to prove that Zac cheated during the race and demands a rematch. Zac agrees, but on the condition that Frankie builds a new track in an impossibly short time. When Frankie and his friends succeed in this challenge, Zac realizes his opponent is not to be messed with.

As the two teams prepare for the big day, Zac has no qualms about cheating again to put the odds on his side. But Frankie and his team have a surprise in store for him.
Showtimes
(No Showtimes Listings)